Operation Community Cats
Humane Loan-A-Trap Agreement
And Release of Liability Statement
Operation Community Cats, aka OCC, Loan-A-Trap program offers a Tru Catch humane cat trap for residents free of charge.
You must have a spay/neuter appointment scheduled with a licensed veterinary clinic that will spay/ neuter feral cats prior to borrowing a trap. Our traps are only for the use of (TNR) Trap-Neuter-Return of Community Cats. Cats cannot be brought to the shelter or relocated once they are trapped.
Your driver's license and cash, good check, or credit card is required as a refundable security deposit of $100 for the most popular size trap (L30"x W9",xH11"), the TruCatch LDT30; $125 for one of two fat boy larger traps (L30"xW12"xH14") and $150 for one of our 2 foldable drop traps (36"x36" x14"). If the trap is not returned after 7 days (or rental agreement time) your credit card will be charged, check cashed for the full price of the trap (method of refundable deposit deposited). Please call 208-477-1550 if you need to make arrangements to extend the time you have the trap(s).
You will have to sign a Trap Loan Agreement agreeing to the below prior to borrowing the trap/s, (please type initials for each item on the form):
Click HERE to download the form.
Then send the filled out form to Lou Ann at lag@boiseid.net and to Diane at ayrwolf123@aol.com
FAQs
Thank you to @ Kitten Lady for the following videos.
Above Videos Credits to @ Kitty Lady
Additional FAQs
Click on each question below to view the answer
You are a true Hero
Donors like you are the lifeblood of Operation Community Cats, an all volunteer non-profit organization.
Over the past 11 months, your generosity enabled us to spay and neuter 363 homeless outdoor cats and kittens. Plus, you helped us provide them medical care and over 7,500 pounds of cat food.
As the weather gets colder, homeless outdoor cats and kittens need your help even more. Words cannot express our appreciation for your continued support.
What is a Community Cat
According to ASPCA, "Community Cats" is a term used to describe outdoor, unowned, free-roaming These  could be friendly, feral, adults, kittens, healthy, sick, altered and/or unaltered. They may or may not have a caregiver.
Community cat populations generally consist of a mixture of feral cats, semi-socialized cats and lost and abandoned pets.
They are not socialized to people and survive on their own outdoors in family groups called colonies. Most community cats are not likely to ever enjoy living indoors...
What is Trap-Neuter-Return (TNR)
Trap-Neuter-Return (TNR) is the humane approach to addressing community cat populations.
Feral cats are humanely trapped, spayed or neutered, vaccinated, and eartipped (the universal symbol of a neutered and vaccinated cat), and then returned to their outdoor home. Socialized cats and kittens are adopted into homes. The colony's population stabilizes—no more kittens! Trap-Neuter-Return improves their lives and their relations with the community: the behaviors and stresses associated with mating stop.
TNR involves humanely trapping community cats living in cities, towns and rural areas and transporting them to a  veterinary clinic where they are spayed or neutered. They may also receive a health check, vaccinations, and can be treated for routine medical conditions.
After surgery, the cat recuperates for a day or two and is then returned back to their colony habitat where caring individuals provide food, water and shelter. (Kittens and tame cats are moved into foster homes where they are loved and nurtured until they can be adopted into loving homes.)
Since the cats are no longer reproducing, the colony will gradually diminish in size. By reducing or eliminating mating, fighting and wandering, TNR makes the colony more stable, impacts the influx of newcomers, and improves the health of the cats.
What is a Catio and What are its Benefits
A catio is a cat enclosure or "cat patio" that provides feline safety and enrichment outdoors. Read About Catios and their Benefits.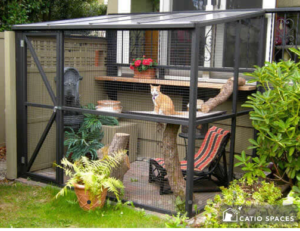 Cats naturally want to be outside where they can breathe fresh air and experience the sights, sounds and stimulation of the natural world.
A catio, an outdoor cat enclosure or "cat patio," is the purrfect solution to solve the indoor/outdoor dilemma and keep your cat safe, healthy and happy. Designed to complement your home and suit your feline's fancy, our catios provide peace of mind knowing your cat is always safe while protecting birds and wildlife.
Catio Spaces: DIY & custom catio and cat enclosure.
Operation Community Cats has been selected to be an affiliate with Catio Spaces. For every catio plan purchased through Catio Spaces website, Operation Community Cats will receive 10% if you use our promo code Operationcommunitycats at checkout.
Lots of great tips and ideas also on Catio Spaces.
Life is Good in a Catio!
What is a feral cat?
A feral cat is a cat who has either never had any contact with people or her contact with people has diminished over time. She is not socialized to people and survives on her own outdoors. Most feral cats are not likely to ever become lap cats or enjoy living indoors.
Outdoor cats have existed alongside humans for 10,000 years. They are not a new phenomenon. Feral cats are members of the same species as pet cats—and are therefore protected under state animal anti-cruelty laws. The difference between feral cats and your pet cat is that they have had little or no contact with people, and so they are wary of us, and cannot be adopted. They have a home—outdoors. They live and thrive in every landscape, from the inner city to rural farmland. Since feral cats are not adoptable, they should not be brought to animal pounds and shelters, because there they will likely be killed.
What is the difference between a stray cat and a feral cat?
Stray cats are socialized to people and can be adopted into homes, but feral cats are not socialized to people and are happy living outdoors.
A stray cat:
Is a cat who has been socialized to people at some point in her life, but has left or lost her indoor home, as well as most human contact and dependence.
Can become feral as her contact with humans dwindles.
Can under the right circumstances become a pet cat once again. Stray cats that are re-introduced to a home after living outdoors may require a period of time to re-acclimate; they may be frightened and wary after spending time outside away from people.
A feral cat:
Is a cat who has either never had any contact with humans or her contact with humans has diminished over time. She is not socialized to people and survives on her own outdoors. Most feral cats are not likely to ever become lap cats or enjoy living indoors.
Can have kittens who can be socialized at an early age and adopted into homes.
Isn't it unsafe for feral cats to live outside?
The outdoors is the natural habitat for feral cats, and empirical evidence indicates they can live long and healthy lives: a 2006 study published in the Journal of Feline Medicine and Surgery found that of 103,643 stray and feral cats examined in spay/neuter clinics in six states from 1993 to 2004, less than 1% of those cats needed to be euthanized due to debilitating conditions, trauma, or infectious diseases.
In addition, the lifespan of feral cats compares favorably with the lifespan of pet cats. A long-term study (published in the Journal of the American Veterinary Medical Association in 2003) of a Trap-Neuter-Return program noted that 83% of the cats present at the end of the observation period had been there for more than six years—meaning that the cats' lifespans were comparable to the mean lifespan of 7.1 years for pet cats.
Feral cat caregivers can take steps to make feral cats more comfortable, like neutering them, feeding them, and providing shelter. These steps promote the cats' well-being, improve their relationships with neighbors, and assist the people who live nearby to understand and co-exist with the cats. But most feral cats don't require intervention beyond Trap-Neuter-Return.
Why can't feral cats be socialized and then adopted into homes?
A feral cat is a cat who has either never had any contact with people or her contact with people has diminished over time. They are not socialized to people and cannot be touched, except sometimes by a regular caregiver.
The ideal window for socializing feral kittens is 12 weeks of age or younger—beyond 12 weeks, feral cats may never socialize completely or at all. As a result, we do not recommend attempting to socialize feral cats older than 12 weeks—it is dangerous and stressful for both you and the cat. Feral cats live healthy lives in their outdoors homes, and the best thing you can do to help them is Trap-Neuter-Return. Outdoor cats that are friendly and socialized to people are called stray cats, and they can be re-homed.
What happens to feral cats when they are brought to most shelters?
Because feral cats are not socialized to people, they are unadoptable as pets. In most shelters and pounds in the US, unadoptable animals are killed. In fact, 70% of all cats who enter shelters are killed there, according to the most reliable data available. That number jumps to close to 100% for feral cats.
Many shelters now realize that allowing feral cats to enter their doors is a death sentence and that Trap-Neuter-Return is the humane approach for their care. In recognition of this, some pounds and shelters have a "no feral cats accepted" policy, as well as a policy of returning eartipped cats to the place where they were initially trapped. Unfortunately, there are more pounds and shelters that still kill feral cats—some as soon as the cat enters the facility. Feral cats live full, healthy lives outdoors, but are killed in shelters.
Why doesn't removing feral cats from an area work?
Animal control's traditional approach for feral cats—catching and killing—is endless and cruel, and it does not keep an area free of cats. Cats choose to reside in a location for two reasons: there is a food source (intended or not) and shelter. Because of a phenomenon called the vacuum effect, when cats are removed from a location, survivors of the catch and kill effort and new cats who have moved in breed to capacity. Cats have been living outside alongside people for 10,000 years—a fact that cannot be changed.
What can I do to help feral cats?
Alley Cat Allies offers extensive and detailed online resources for cat care in the 
Community Cat Care 
section of our website.
Learn to perform Trap-Neuter-Return.
Manage a colony provide feeding, sheltering, and providing ongoing care.
Our Community Relations Center provides you with the tools and information to help you bring about widespread change in your community and ensure that it continues to be a safe and happy home for both the cats and the neighbors.
Our Veterinary Resource Center is the place to go to learn more about the special veterinary approach for feral cats that takes into account their unique needs and the fact that they are unsocialized to people.
Our Socialized Cat Guide will help if you have found kittens or socialized cats.
You can also find local help with our Feral Friends Network. Request a list of Feral Friends in your area. The Feral Friends Network is a nationwide database of individuals, organizations, and veterinarians who can provide guidance about Trap-Neuter-Return, borrowing equipment, and obtaining affordable neuter services for feral cats.
I found a friendly outdoor cat, how do I find her a home?
First, do you know the difference between stray cats and feral cats? Stray cats are socialized to people and can be adopted into homes, but feral cats are not socialized to people and are happy living outdoors. To do what's best for the cat, you need to know the difference!
Find out by using our illustrated guide: Feral and Stray Cats—An Important Difference.
If the cat you have found is a stray or if you find socialized cats or kittens during Trap-Neuter-Return, you can place them in adoptive homes. Visit our Socialized Cat Guide for simple step-by-step instructions for finding a loving, permanent new home for adoptable cats.
If the cat appears frightened or anxious, but not feral, visit our Soothe a Stray page to learn how to bring out her friendly personality and maximize her chances of finding a good home.
When deciding what to do with the cats you have found, it's important to know that if you take a cat to an animal shelter, most shelters will likely kill the cat. Seventy percent of cats entering shelters are killed, and that number jumps to nearly 100% of feral cats and kittens. If you are still considering a shelter, always ask for the adoption procedures, typical duration of stay, and euthanasia policies before deciding if you should take a cat there. Even then, it is still at the shelter's discretion to euthanize for any reason.
Good luck finding your friendly cat a home!
What is an 'eartip'?
We use the word "eartip" to describe when a small portion of the tip of a feral cat's left ear is surgically removed during neuter surgery, to denote that the cat has been neutered and vaccinated.
Eartipping is done while the cat is anesthetized and is not painful for the cat.
Eartipping is the most effective way to identify neutered feral cats from a distance, to make sure they are not trapped or undergo surgery a second time.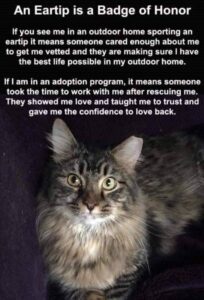 I have found feral kittens. What do I do?
When you come across kittens living outdoors, you may wonder whether it's better to take them into your home or leave them outside with mom. Whatever you decide, it should be in the kittens' best interest. Here are some things to think about:
You may also find it helpful to talk to Feral Friends in your area. Our Feral Friends Network is a nationwide database of individuals, organizations, and veterinarians who provide guidance about Trap-Neuter-Return, borrowing equipment, and where to find affordable neuter services for feral cats and kittens. You can request a list of Feral Friends by filling out our Local assistance form. After you complete the form you will immediately be emailed information tailored to your specific request for help. Even if the Alley Cat Allies' Feral Friends Network members listed in your area cannot help directly, they may be able to point you in the right direction.
I want to get some stray and feral cats neutered, how do I conduct Trap-Neuter-Return?
Trap-Neuter-Return is a great way to help the cats in your community; it improves the cats' health and stabilizes the colony while allowing them to live out their lives outdoors.To successfully trap, neuter, vaccinate, eartip, and return feral cats to their outdoor home, you need a plan. Our guidelines for humane trapping, available in the How to Conduct Trap-Neuter-Return section of our website will get you on your way!
There you will find:
If you're looking for help at the local level, you should check out our Feral Friends Network—volunteers who have agreed to provide local advice and guidance to others working to implement Trap-Neuter-Return for feral cats. To request a list of Alley Cat Allies' Feral Friends, please return to our Find Local Assistance Form.
I don't want cats in my yard. How can I deter cats and peacefully live with them in my neighborhood?
Where do feral cats come from?
Feral cats are not a new phenomenon. Outdoor cats are part of our rich history in this country and worldwide.
Cats have been living among us here in the U.S. for hundreds of years. Feral cats are domestic cats. Feral cats thrive in every type of environment, urban, suburban, and rural. Some feral cats are offspring of house cats. Yet, not until the last two decades has there been accessible and affordable spay and neuter services for cats. And, until recent years, early-age (kitten) spay / neuter was not practiced (kittens go into heat between 4 and 6 months and traditional conventional-wisdom was to spay a cat at 6 month of age.)
Domestic cats came into existence about 10,000 years ago, when humans began farming. According to scientists, cats are one of the only animals who domesticated themselves—choosing to live near humans to feed on the rodents attracted by stored grain. Evolutionary research shows that the natural habitat of cats is outdoors in close proximity to humans—and that is how they have lived ever since. In fact, it wasn't until the 1940s—and the invention of cat litter—that "indoors only" for cats was even a concept.
I need to relocate a cat/colony. Should I do this? How do I do this?
IMPORTANT: Even in the best case scenarios relocation can be very dangerous for cats and ineffective. Relocation is stressful for cats and since community cats are not socialized to people they can be unpredictable. Community cats bond to their outdoor homes and will try to go back—in some cases cats have died in the process, when people misguidedly believe that their life will be better someplace else
Relocating feral cats is not the "happy ending" many people may think it is. The truth is, it's a complicated, risky, and time-consuming plan that rips frightened cats from their home—with no guarantee they will stay in the new location.
In high-tension situations, calls to "just move the cats" are extremely common. It can be tempting to offer the opposition an option they will easily accept, like relocation. But remember that you are always working towards a solution that is in the best interest of the cats—and relocation is not. Because of the negative impacts on the cats, relocation should be your last option, something to be considered only after you have exhausted all other possibilities and you truly believe that the cats' lives are in imminent danger if they remain where they are.
A far better course of action is to resolve the problems that are causing the cats to be forced out of their home. Visit our Community Relations Resource Center to learn how to reach a compromise that allows the cats to remain in their original colony location by:
Using peer mediation techniques
Negotiating with decision makers
Offering bargaining chips to reach a compromise
Handling threats to cats
If you are considering relocating cats because their caregivers are no longer able to provide care, visit our Planning for Substitute Colony Care page for recruitment tips on finding new caregivers.
If you have considered all of the above and believe that relocation is the only option that is in the best interest of the cats, follow the steps in the Safe Relocation of Feral Cats section of our website.
What happens when entire colony of community cats are TNRed?
Once a colony (group like a family unit that live together) of cats have been spay and neutered it is very important that a caregiver monitors the colony to make sure new cats joining the colony get spay/neutered, sick cats get medical attention, assure the colony has food, water and shelter.
There is always a need for caregivers, if you would like more information or would like to be a caregiver please contact occidaho@gmail.com
Targeted Trapping—Organize Your Efforts and Help More Cats
"Targeted Trapping" is a term that was coined by Alley Cat Allies for the most efficient and effective effort to help the most cats in the shortest amount of time trapping. Targeted Trapping means aiming to trap every cat in a colony or specific area for Trap-Neuter-Return (TNR) and then expanding to surrounding colonies. Targeted Trapping is a strategic, smart approach because it produces measurable results, and maximizes your resources and staff/volunteer time.
This method is about "working smarter, not harder." Since targeted trapping focuses on an entire colony instead of only neutering a few cats at a time, life improves for every individual cat in the colony immediately and there will be no more kittens.
With this technique, you'll also gather invaluable documentation like medical records, colony tracking sheets, and records of time and money you spent on the cats. This will help you show your success and expand your efforts.
Step 1: Gather Information and Build Relationships
If you're part of an organized TNR effort, you're likely getting calls from the public about community cats—also called feral cats. Create a spreadsheet and record as much information from callers as possible, including:
Full name
Address
Phone number(s)
Location of cats
Number of cats
Who is feeding the cats, if known
Property owner's info if the caller isn't the property owner
Nature of the call (concern, interested in helping, etc.)
You may want to solicit calls—consider placing an ad in your local newspaper with a number people can call about community cats. Don't use your home phone number, and indicate callers' information will be kept confidential.
Animal shelters may know where large cat colonies if they are tracking intake reports and calls from the public. Consider contacting them, if you feel comfortable.
Step 2: Identify "Hot Spots" Where Cats Live
Analyze the information you've gathered and look for trends. You can plot calls and reports on a hard copy map, or use mapping programs such as Google Maps or Microsoft MapPoint.
You'll start seeing obvious areas and neighborhoods where residents are calling about cats. These "hot spots" are target areas where your trapping will have the greatest impact.
Step 3: Create and Implement a Targeted Trapping Plan
Once you have determined your target areas, pick the one you'll start with. Investigate the colonies: where do they live and who is feeding them? Then, talk to neighbors about your targeted trapping plan. Use Alley Cat Allies'door hangers and publications to help, and use this as an opportunity to listen to any concerns neighbors might have about the cats. Don't skip this step—when community members understand TNR and feel involved with the project, they are more likely to cooperate and even support your efforts.
Ask neighbors about their own cats to make sure your spay/neuter plan covers all cats, including indoor and indoor/outdoor cats. Ask that pet cats be kept indoors during trapping, and arrange spay/neuter for pet cats as needed.
Next, create a plan and schedule the trapping, transporting, vetting, and returning of the cats. Learn more about conducting Trap-Neuter-Return.
Step 4: Document Your Progress and Success
Maintain records for every cat you trap, neuter, vaccinate, and return or adopt—and all the pet cats you neutered. The better your records, the better case you can make for contributions, recruitment, or proving the program is beneficial to the community.
The number of cats in the colonies you target will stabilize. Caregivers should continue to monitor the colonies and trap and neuter any newcomers. Try to get positive testimonials from caregivers and neighbors as evidence of the program's benefits.
Your targeted trapping efforts will keep you organized and allow you to help more cats in the most effective way possible. The cats will be thankful for your work, and so will the neighbors!